This Should Be the Miami MetroMover Extension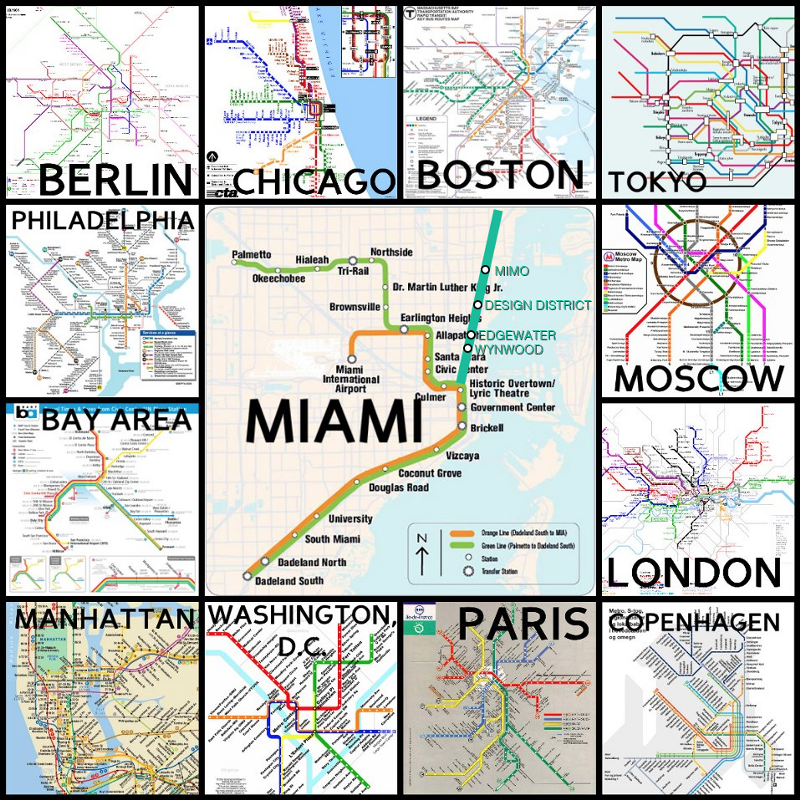 This Should Be The Miami MetroMover Extension
And It's Not One To Marlins Park
---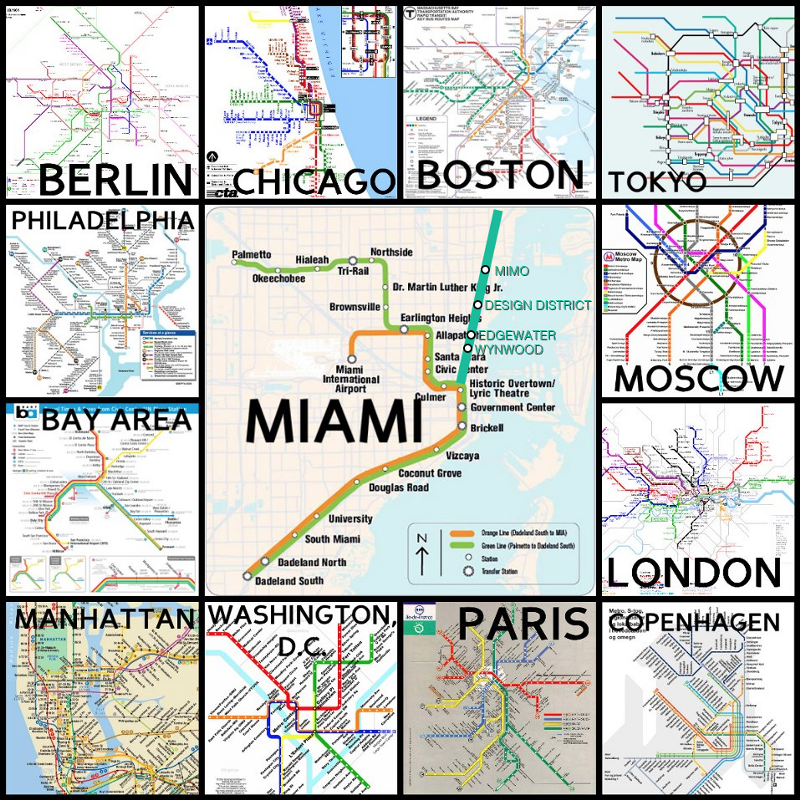 *RENDERING NOT EXACTLY TO SCALE
As you can see, Miami's mark as a world class city is clearly nonexistent until we have some sort of public transit infrastructure that let alone makes sense. Forget about rivaling any of these beautifully architectured public transportation lines, because it's not happening. All we can pray for is some sort of logical epiphany happening in whatever office decides this type of stuff. Actually, wait, I heard about an extension. I'm sure most of you in Miami have heard of this too:
Report: Beckham And UM Working On A Stadium Next To Marlins Park, With A New Metromover Loop Major League Soccer, the University of Miami, and Dade County officials could soon announce plans for a 40,000-seat…
I like the effort, but this isn't what Miami NEEDS right now. I mean, it would be nice, but it should take a back seat to more important infrastructure tweaks. The MetroRail and MetroMover are Miami's main arteries that have been clogged with croquetas for multiple decades.
These delicious croquetas are from Islas de las Canarias.
At this point, not even a triple-bypass surgery can help the city's heart recover. At the core, things are changing quickly for Miami's citizens. Whether your neighborhood is being gentrified, or your business is moving, relocation is happening from WITHIN South Florida. I know, a lot of people are coming in from out of the state and country, but the truth of the matter is that people are only beginning to realize how crazy (in a good way) it's getting down here. New businesses are opening left and right. From gourmet taco joints and food-trucks in previously terrible neighborhoods, to sushi-burrito and grilled-cheese fast-casual concepts in Downtown, restaurants are popping up everywhere.
A restaurant in the middle of the hood? But there's art! Take my money!
"Whether your neighborhood is being gentrified, or your business is moving, relocation is happening from WITHIN South Florida."
The MetroMover initiative for Marlins Park is great: "Get drunk fans off the street." I know everything costs money, but it's dumb that it takes big names to get the attention needed to change Miami's infrastructure. Here's a more important/expensive change: A northern metro-rail extension with at least 5–6 legit stops at Omni, Edgewater, Wynwood, Midtown and the Design District. According to new zoning changes recently made to the Wynwood area: "104 acres will change from Industrial zoning to General Commercial zoning (which also permits residential use.)" That's a lot of potential new residents that would benefit from public transit. I'd personally love to see them go as far as MiMo and build it out to the deep 50's and 60's on Biscayne. That final metro rail extension would offer access to the MiMo District's restaurant-row emerging over there. It puts the people in direct access to those businesses. Imagine getting off of the metro in MiMo to eat AND drink at all those amazingly inaccessible, gourmet restaurants: Andiamo, Soyka, Blue Collar, Cena by Michy (formerly Michy's), Ms Cheezious' storefront, Vagabond, Ni.Do Cafe, LOBA, the Federal, there's so many its ridiculous!
I want soccer in this city just as bad as the next soccer fan, but I'm more of a fan of my city (and food) in general. I want to see her go in the right direction. I only want what's best here. Building another stadium to deflect attention from Marlins Park's unsavory history (Google: Jeffery Loria Marlins Park) isn't at the top of that list. I know there's a lot of big changes still to come like the Miami World Center and the completion of Brickell Citi Centre, but there are destinations already in place that need to be connected to the rest of the city.
source: TransportPolitic
Sure, if the city and county can't afford the money to extend the MetroMover then use a streetcar. Not a trolley. Make it a paid service so that we can at least feel like it SHOULD be good. I know the TransportPolitic blog posted a rendering of future plans with a yellow line called "streetcar," but I'll hold my breath.
The website that posted the first article about the MetroMover extension teased us with designs for a "Transit Village" a while back. Whatever happened to that? Here's that article from 2012:
Chad Oppenheim: Northside Transit Village in Miami _At the Northside Metrorail station NORTHSIDE TRANSIT VILLAGE PROJECT TYPE88,000 SF Mixed Use, Multi Family, Commercial…_www.thenextmiami.com
It's been 3 years and it may be time to revisit it considering the boom of growth in the area. On the flipside, all fast things tend to come to a crashing, burning fireball of a halt in Miami, so maybe it's a good thing that it's being done slowly. I don't know. I'm just trying to send out positive vibes in the universe. Maybe the Foodie God (who is most likely John Goodman) will grant me my wish of getting on the Vizcaya metro-rail in front of my house, getting off in MiMo by Blue Collar, picking up a Corben to-go, hop back on the rail and take my two, steaming hot brisket sandwiches on Portuguese muffins with a side of au jus back to my place. The latkas and applesauce would never survive the ride home.
A Corben sandwich can be found at Blue Collar in the MiMo District.
---
Everyone thinks tech is the future. Tech is the present. Not having to deal with Miami traffic is the future. Get with the program.
---